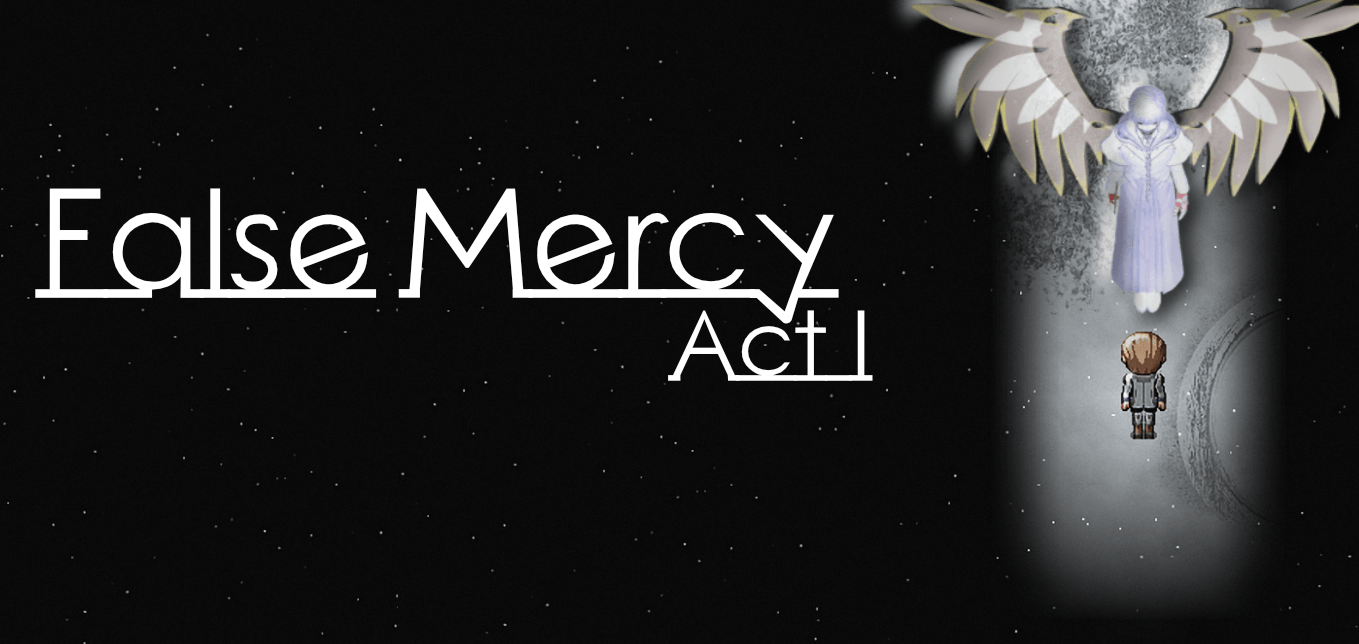 False Mercy (ACT I)
A downloadable game for Windows
Synopsis:
'False Mercy' is a short, narrative driven game about a sinner's afterlife, as he waits for judgment day. Consisting of dark, psychological, and religious themes.

(This is only Act 1 of the story. With Act 2 & 3 coming later.)
This game was made within a few days, for the 1st RPG Maker Game of The Month Jam.
https://itch.io/jam/1st-rpg-maker-game-of-the-month-jam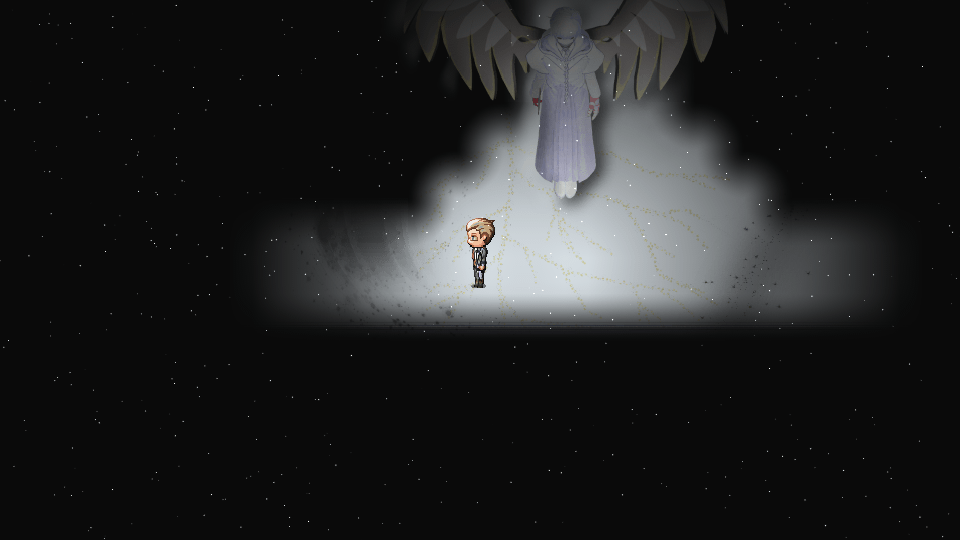 Details:
Title: False Mercy | ACT I
Playtime: A Solid 10 minutes
Genre: Story-focused, Dark, Psychological, & Religious.
Game Engine: RPG Maker MV
Play Mechanic: You just walk from one place to the next, interact, and have dialogue. (No battle system, no choices. This game is a 'linear' experience.)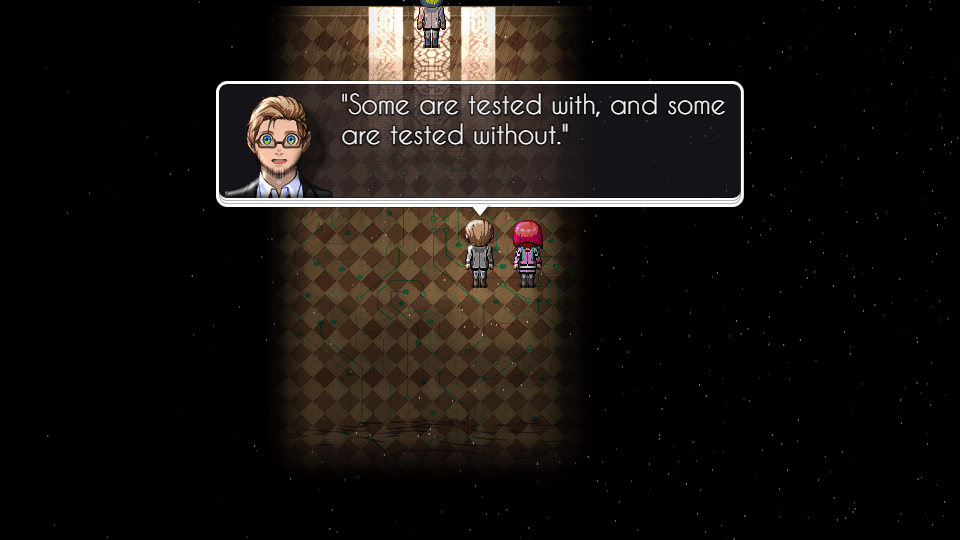 System Requirement:
OS: Windows 7 or higher
RAM: 4 GB
Graphics: A decent Graphics Card
Directx: Version 9
Storage: Around 100 MB available space
Controls Support: You need either a Keyboard, or Mouse, or Gamepad. (Everything works.)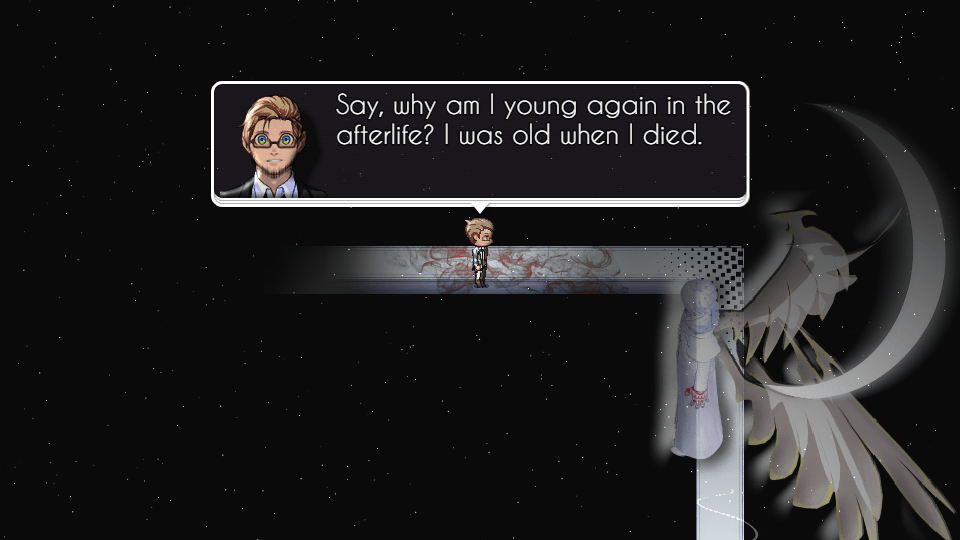 Controls:
Keyboard: 'Directional keys' to move around, 'z' or 'enter' to interact, & 'x' or 'escape' to cancel or opening menu.
Mouse: Left click a place on the screen for the character to move towards it. Left click on an object to interact. And right click to cancel or open menu screen.
Gamepad: May vary.
Credits:
The complete credits (with links) are mentioned in a document right beside the .exe file, and also inside the game.
F.A.Qs:
Want to make a let's play video? ~THAT would be SO awesome! Go right ahead!
ACT II & III, When!? ~Probably within a month.
Lastly, be sure to comment!
You're already here, why not share your thoughts? Means a lot to me.
You can comment, even if you didn't play the game! :D
Install instructions
Extract the .rar file, and launch the .exe inside the folder.
Like... do it, right now.
Comments
Log in with itch.io to leave a comment.
This was an amazing play. Nice!
Happy to hear that Julian. Thank you!
Will there be an ACT II soon?
It COULD take a while. Probably a few months.
I ended up picking up a different project and want to finish it up before coming back to this one.

So yeah... I'm sorry for jumping ships, and not immediately following up on this project. ( ̄~ ̄;)
That's honestly fine! Looking forward to seeing more of your work!
Played it! Your writing is still great even for a 10 mins game. And as I mentionned before the atmosphere is on point, good choice of bgm's, too!
One thing I noticed though, green-haired blind guy and redhead girl aren't breathing in the last scene.

Ah, you caught that... very perceptive of you.
THAT... was a technical issue. I was putting in the plugin command to make them breathe, but they wouldn't.
I skipped fixing it because the submission period (for the game jam) was about to end.
(Also, Thank you so much for playing & for commenting about it!)